A "Saintly" Squirrel in Stained Glass
All Saints day originally went my a different name, dedication Sanctae Mariae ad Martyres, based upon the pagan celebration of Lemuria both were held on May 13. "Some liturgiologists base the idea that this Lemuria festival was the origin of that of All Saints on their identical dates and on the similar theme of "all the dead"." (Wikipedia All Saints Day)  Pope Gregory III in the mid-eighth century dedicated a day to the saints and their relics, November 1.
"The choice of the day may have been intended to co-opt the pagan holiday "Feast of the Lamures," a day which pagans used to placate the restless spirits of the dead.  In Ireland All  Saints Day is celebrated on April 20th.  November 1 is all Saints Day, Tomorrow is All Souls Day.  I will cover both in this Blog as I will post it in the morning on All Souls day.
A classic Depiction of "All Saints"
100 points if you can name them all.   I have a friend. Maria B. who can name them all.
I am going to start with and bit of Truth, as it is what the fundamental beleif of my faith, Druid.  Though I have been in a Roman Catholic Church in the past year.  Long ago I converted from Roman Catholiscism to Druid.  I have released all of my past knowledge of the religion that no longer lightened my soul.   Thus there will be numerous instanaces of exerpting from other sources.  As I have been researching this topic I have fallen utterly in love with the pictures of lights to honor the dead.
"The Catholic practice celebrates all those who have entered heaven, including saints who are recognized by the Church and those who are not."  Catholic.org
Of Course where you have a room full of a christians you will have a similar number of perspectives on what a holy day means, as well as how to celebrate the holy day.
"According to Mark Wood at Christian Today many evangelical protestants are uncomfortable with saints as it seems to rank some Christians more highly than others.
Thus many Christians extend the celebration of All Saints Day to everyone who is a Christian. 'We are all saints, in a biblical sense,' he writes.
'So All Saints Day is a time to be thankful for all those Christians who have lived before us, whether they are officially saints or not. Some are the great teachers ad prophets from history.
Some are those who've taught and inspired us personally. 'Some are our friends and family. We can thank God for their witness, and for the way they have transmitted the faith down the generations. We can learn from their lives. We can take time to be grateful for what we've received, and to recommit ourselves to follow in their footsteps.'
Kenya Sinclair, a writer at Catholic Online, echoes this sentiment saying All Saints Day is a 'call to live as saints'."  Metro.co.uk
Prayer votive to the Saints
Fun Fact from Beliefnet.com
"New Orleans Saints
Did you know the New Orleans Saints was named after All Saints Day because of the huge Catholic population in New Orleans?"
Symbols for the Holy Days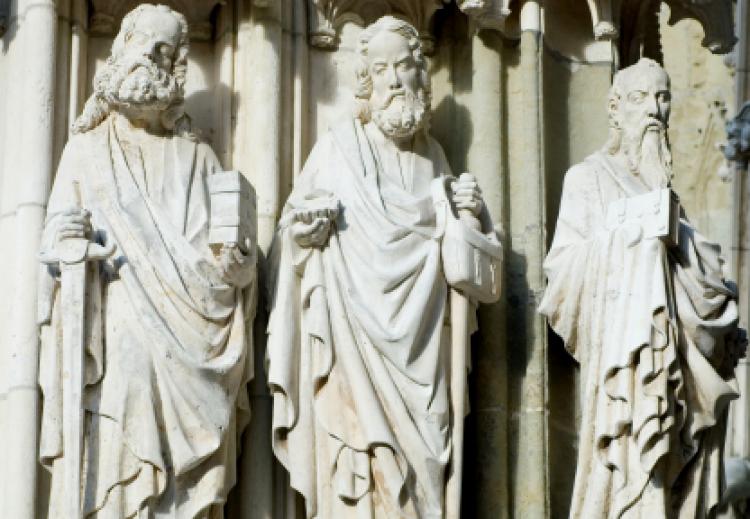 Germans purely celebrate All Saints Day
All Saints' Day is represented by paintings and images of many saints together. The saints may surround or look towards a figure representing Jesus and be accompanied by angels. Saints are often represented with a golden halo above or behind their heads.
Two or more candle wicks dipped in wax and wrapped around a cone-shaped form
Newweling preburning
Newweling Burning
In some areas of Germany, a Newweling symbolizes All Saints' Day. A Newweling is made of two or more candle wicks dipped in wax and wrapped around a cone shaped form. The form is removed before the candle is lit. Traditionally, each candle wick is dipped in red, white, blue, yellow or green wax and two or more different colors are used for each candle.
Toussaint
"All Saints' Day in France is locally known as "Toussaint" which is the contraction of "Tous les Saints", meaning "All the Saints" in English. The solemnity takes place in Autumn on the 1st November and is a Catholic tradition of honouring the dead.
French people commemorate their dead on the 1st of November. The catholic tradition makes a distinction between Toussaint (All Saints' Day, on the 1st of November) from the "Commémoration des fidèles défunts" (All Soul's day, on the 2nd of November). Dead relatives are supposed to be commemorated on the 2nd of November, but since Toussaint is a public holiday, French people honour their dead on the 1st of November. Members of a family usually gather to go to the cemetery together.
They put chrysanthemum flowers on the grave and light candles to symbolise happiness in the afterlife.
They can also attend special church services.
Toussaint can be a very important moment for families. They can spend a day together in a respectful atmosphere which generally excludes usual family fights, even though regrets and sorrow can be a source of tension. Toussaint is an opportunity to strengthen family links spending a nice day together or expressing common grief.
Many different countries blur the lines of All Saints Day and All Souls Day, the Filipinos are another one of  these nationalities.
Undas or Undras
"Most Filipinos go to the cemetery to visit the graves of deceased relatives and friends. Some prefer to go on Oct. 31st or Nov. 1st, while some go to the cemetery for three straight days. Others would spend the night at their loved ones mausoleum. Once we arrive, we clean the tombs, light up candles, offer flowers, and say a prayer for the souls of the departed."
"During this time, schools are on their semester break so it is also an opportunity for families to spend time together. Children would play with their cousins as the adults would exchange stories and play cards or mahjong (a game that originated in China). Back in the 80s, flying kites and catching dragonflies were favorite activities among the young. Filipinos, known for their love of singing, also bring guitars to serve as a means of entertainment while at the cemetery.
As lunchtime approaches, everyone sets the table for the various dishes cooked for that day. It usually includes the deceased loved one's favorite dish. We place a plate of food in front of the tomb or grave as offering for the soul of our relatives and friends. Priests would also go around the cemetery to offer prayers and bless graves."
"Many people go back to their home provinces for All Souls' Day. If they can't, they go to the church to light candles. Special masses are also held in memory of the departed."
"Aside from honoring the dead, Filipinos also use this time to unwind. "
Polish and Hungarian Catholics also seem to blur the lines of the two holidays.
Polish Wszystkich Swietych
"All Saints' Day is celebrated solemnly in Poland. The first of November is a bank holiday during which people visit cemeteries and gather round their family graves, laying flowers and lighting candles.
"The Roman Catholic tradition (Festum Omnium Sanctorum) honouring all saints, both known and unknown, is one of the most important Polish holidays. It was also recognized by the communist authorities of the Polish People's Republic. They renamed it the "Day of the Dead" and treated it as a day of remembrance for the deceased.
…
People used to believe that on 1 November, the day the Church traditionally received offerings from believers to celebrate mass in memory of the dead, souls stuck in purgatory would roam around among the living.
Pagan beliefs and celebrations have survived to the present day in the Podlasie Voivodeship, historically part of the eastern Slavic lands. Forefathers's Eve, a tradition pre-dating Christianity commemorating restless souls, is still celebrated in some regions. In many villages, food, drink and prayers are still offered to the souls that have to atone for their sins, to help ease their anger and make their journey to heaven more comfortable. The tradition of a feast during which bread, eggs and honey are consumed has also been preserved. According to one superstition, a spoon which falls to the ground should not be picked up as it is thought to have been snatched by a dead soul searching for food.
CHLEB SZWAJCARSKI aka. "bread of the dead"
In some villages in southern Poland, people continue to bake the "bread of the dead," marked with a cross and prepared early enough so as not to torture souls which, it was believed, used ovens and chimneys as the shortest way to heaven. People used to share the "bread of the dead" with priests and beggars who would say a prayer for the dead.
All Saints' Day is followed by the All Souls' Day (Commemoratio Omnium Fidelium Defunctorum – Commemoration of All Deceased Believers). It was introduced by Odilio, an abbot from Cluny, in 993 to replace the pagan celebrations for the dead. Nowadays, on All Souls' Day, Roman Catholics remember the dead and pray for their souls. The second of November is not a bank holiday in Poland, but practising Roman Catholics go to mass on that day.
On 1 and 2 November Polish cemeteries are alight with hundreds of thousands of candles. The flower traditionally associated with All Saints' Day in Poland is chrysanthemum."
Halottak Napja
Hungarians lanterns honoring the holy days
ALL SOULS DAY
Celebrated on November 2nd
"All Souls' Day is a Catholic tradition in which churches commemorate the dead by praying for their souls. Rituals include visiting family graves and remembering deceased relatives. However, this Christian holiday combines some rituals from the Pagan holiday Samhain as well as ancient Mexican traditions used to celebrate and remember dead ancestors."
"Altars are set up in homes to honor dead relatives. These are adorned with food and drinks (ofrendas), photos, candles, flowers, and candy skulls inscribed with the name of the deceased. Incense sticks are lit to help the departed find their way."
"What Is All Souls Day (Commemoration of the Faithful Departed)?
All Souls Day History, Information, Prayers, Meaning, Traditions, & More
What is All Souls Day? It is when the Church commemorates and prays for the souls in Purgatory, who are undergoing purification before entering heaven. All Souls Day is celebrated on November 2nd, the day after All Saints Day. Prayers: All Souls Day Prayers
'Just the facts'
: Black, White, or Violet
 A Special Class; Ranked With Solemnities because it takes precedence over a Sunday
: November 2 (West), Eve of Pentecost (East)
: One Day
: All the faithful departed
: Commemoration of the Faithful Departed; Commemoratio omnium Fidelium Defunctorum
: 2 Maccabees 12:44-45; Matthew 12:31-32; 1 Corinthians 3:13-15; 2 Timothy 1:16-18; 1 Peter 3:18-20
Data Points
All Souls Day directly follows All Saints Day, and commemorates the faithful departed, those individuals who die in God's grace. Catholics believe that not everyone who is destined for heaven is immediately ready for the "Beatific vision," i.e. the direct experience of God and his perfect nature in heaven, so they must be purified of "lesser faults," and the effects of sin.
The Catholic Church calls this purification "purgatory." The Catholic teaching on Purgatory essentially requires belief in two realities: 1. that there will be a purification of the souls of believers prior to entering heaven and 2. that the prayers and masses of the faithful in some way benefit those in the state of purification.
As to the duration, place, and exact nature of this purification, the Church has no official teaching or dogma, although Saint Augustine and others used fire as a way to explain the nature of the purification.
Many faithful Catholics, including Pope Benedict XVI, understand that Purgatory may be best thought of as an "existential state" as opposed to a temporal place (see Benedict's  230-231).
In other words, because Purgatory is outside created time and space, it is not necessarily accurate to speak of a location or duration of Purgatory. Nonetheless, the prayers and Masses of the faithful do have an impact on the purification that the faithful are undergoing in Purgatory. Many non-Catholics, including C.S. Lewis, have believed in Purgatory, and the official dogma of Purgatory is hardly offensive, even if the popular understanding of it has led to confusion. As a more everyday explanation, many liken Purgatory to a place or state where one gets "cleaned up" before entering into the presence of Almighty God.
The Church prays for, and remembers, the faithful departed throughout the entire year. However, All Souls is the general, solemn, day of commemoration, when the Church remembers, prays for, and offers requiem masses up for the faithful departed in the state of purification. Typically Christians will take this day to offer prayers up on behalf of their departed relatives and friends. Others may remember influential individuals that they never knew personally, such as presidents, musicians, etc. This may be done in the form of the Office of the Dead (Defunctorum officium), i.e. a prayer service offered in memory of departed loved ones. Often this office is prayed on the anniversary (or eve) of the death of a loved one, or on All Souls' Day.
There are many customs associated with All Souls Day, and these vary greatly from culture to culture. In Mexico they celebrate All Souls Day as el dia de los muertos, or "the day of the dead." Customs include going to a graveyard to have a picnic, eating skull-shaped candy, and leaving food out for dead relatives. The practice of leaving food out for dead relatives is interesting, but not exactly Catholic Theology. If all of this seems a little morbid, remember that all cultures deal with death in different manners. The Western aversion to anything related to death is not present in other cultures.
In the Philippines, they celebrate "Memorial Day" based loosely on All Souls Day. Customs include praying novenas for the holy souls, and ornately decorating relatives' graves. On the eve of All Souls (i.e. the evening of All Saints Day), partiers go door-to-door, requesting gifts and singing a traditional verse representing the liberation of holy souls from purgatory. In Hungary the day is known as Halottak Napja, "the day of the dead," and a common custom is inviting orphans into the family and giving them food, clothes, and toys. In rural Poland, a legend developed that at midnight on All Souls Day a great light shone on the local parish. This light was said to be the holy souls of departed parishioners gathered to pray for their release from Purgatory at the altars of their former earthly parishes. After this, the souls were said to return to scenes from their earthly life and work, visiting homes and other places. As a sign of welcome, Poles leave their windows and doors ajar on the night of All Souls Day. All of these customs show the wide variety of traditions related to All Souls Day.
'A bit of History'
Christians have been praying for their departed brothers and sisters since the earliest days of Christianity. Early liturgies and inscriptions on catacomb walls attest to the ancientness of prayers for the dead, even if the Church needed more time to develop a substantial theology behind the practice. Praying for the dead is actually borrowed from Judaism, as indicated in  12:41-42. In the New Testament, St Paul prays for mercy for his departed friend Onesiphorus ( 1:18). Early Christian writers Tertullian and St. Cyprian testify to the regular practice of praying for the souls of the departed. Tertullian justified the practice based on custom and Tradition, and not on explicit scriptural teaching. This demonstrates that Christians believed that their prayers could somehow have a positive effect on the souls of departed believers. Closely connected to the ancient practice of praying for the dead is the belief in an explicit state called purgatory. The New Testament hints at a purification of believers after death. For example, Saint Paul speaks of being saved, "but only as through fire" ( 3:15). Over time, many Church Fathers, including St. Augustine, e.g. in  and , further developed the concept of a purgation of sins through fire after death.
'A bit More History'
In the early Church, departed Christians' names were placed on diptychs. In the sixth century, Benedictine communities held commemorations for the departed on the feast of Pentecost. All Souls' Day became a universal festival largely on account of the influence of Odilo of Cluny in AD 998, when he commanded its annual celebration in the Benedictine houses of his congregation. This soon spread to the Carthusian congregations as well. The day was celebrated on various days, including October 15th in 12th century Milan. Today all Western Catholics celebrate All Souls' Day on November 2, as do many Anglicans, Lutherans, and other Christians. Initially many Protestant reformers rejected All Souls' Day because of the theology behind the feast (Purgatory and prayers/masses for the dead), but the feast is now being celebrated in many Protestant communities, in many cases with a sub-Catholic theology of Purgatory. Some Protestants even pray for the dead; many Anglican liturgies include such prayers. While the Eastern Churches lack a clearly defined doctrine of Purgatory, they still regularly pray for the departed. …"
Hand made paper machete lantern
An All Souls Day Festival
The Dearly Departed watching over the families who have come to visit